Havana's Argos Teatro gets UM's celebration of Virgilio Piñera's work off to an exciting start.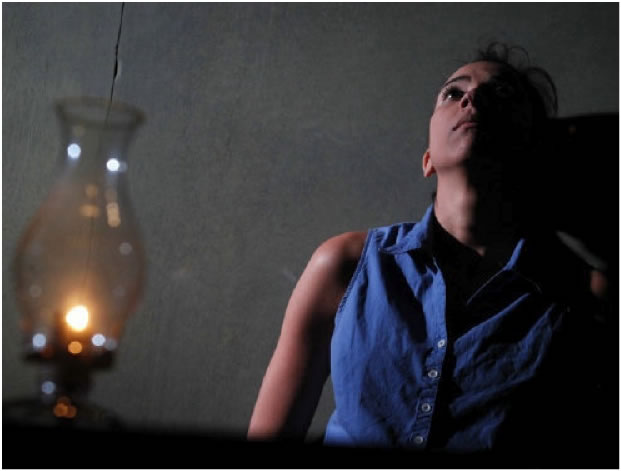 If you go
What: 'Absurd Celebration: The First International Festival of Virgilio Piñera's Theatre'
Where: University of Miami's Jerry Herman Ring Theatre, 1312 Miller Dr., Coral Gables
BY MIA LEONIN
Special to The Miami Herald
When you think of the villagers who turn into animals in Eugene Ionesco's Rhinoceros, it's easy to associate the theater of the absurd with flights of fancy. However, Virgilio Piñera's masterpiece Aire frío (Cold Air) has blown into town to remind Miami that no matter how outlandish it may seem, the absurd always has roots in reality. In the case of Argos Teatro's production, directed by Carlos Celdrán and performed by a stellar cast from Havana, the grim reality of the Romaguera family sparks as many laughs as it does tears.
Aire frío, performed in Spanish with English supertitles, kicks off Absurd Celebration: The First International Festival of Virgilio Piñera's Theatre. The five-week festival, celebrating the 100th anniversary of Piñera's birth, is a coproduction of the University of Miami's Department of Theatre Arts and the Department of Modern Languages and Literatures, in association with FUNDarte.
In Aire frío, over the course of three acts and 18 years, the Romaguera family endures a grueling cycle of poverty, desperation and bitter resignation to their fate. All of this takes place under the relentless tropical sun, which serves as a metaphor for large institutions which rise, fall and remake themselves with no concern for the people who depend on them. Thirty year old Luz Marina (Yuliet Cruz) labors night and day as a seamstress to eke out a substandard existence for her elderly parents, Ana (Verónica Díaz) and Ángel (Pancho García), and her brother Oscar (Aléxander Díaz), a languishing writer who chooses poetic aspirations over professional ambitions. Enrique (José Luis Hidalgo), the only sibling with a real job, is too stingy and self-involved to help the family.
Wisely, Alain Ortiz's set design closes off the Ring Theater's usual theater-in-the-round configuration so that the audience must confront the Romaguera family living room head on as their drama unfolds. Manolo Garriga's light design marks the passing of time and the relentless tropical sun with harsh blades of light that slice dramatically through the set.
Cruz infuses Luz Marina, the play's central character, with the richness and nuance Piñera's text inspires. Luz Marina blisters, stews and roasts in the heat and in her misfortune. At one point she says to her mother, "The story of this house is not only the days of hunger, the lack of clothing, the electricity cut off, or the worn-out shoes . . . it's also the story of suffering, the desperation of your soul." Cruz and the entire cast act from the gut at all times. The visceral quality that each actor brings to the stage carves unforgettable lines and contours into a portrait of poverty and desolation, a portrait that is still so relevant today.
In more than a decade of theatergoing in Miami, this was one of the most culturally and age-diverse audiences I've seen. It's also the first Spanish-language production to run at UM's Ring Theatre. As the opening night full house of more than 300 people could attest, Aire frío got this Piñera celebration off to an exciting start.